Australia's vaccine rollout is ramping up after a slow start, with more than 1 million jabs now being given out a week.
So how do you get yours?
The best way is to use the government's official Eligibility Checker, which can be found here.
READ MORE: Not a race? The graphs that rank Australia dead last
https://twitter.com/healthgovau/status/1420605463733882881?ref_src=twsrc%5Etfw
Early access was given to frontline and aged care workers, over-70s and over-50s, people with health issues, and Aboriginal and Torres Strait islanders.
But the rollout is now technically open to all age groups.
That's because while not officially invited to get jabbed yet, people under 40 are being told they can opt to have the AstraZeneca vaccine.
More than 300,000 have done so in the past four weeks.
There are now multiple places you can get vaccinated, from mass vaccination hubs to GPs and even pharmacies.
Pfizer or AstraZeneca coronavirus vaccine?
Australia is currently using two brands of vaccine, Pfizer and AstraZeneca.
The Therapeutic Goods Administration has provisionally approved the Moderna vaccine and the first doses are expected to begin arriving in the second half of September.
The advice from the official vaccine watchdog, ATAGI, has changed multiple times over the past few months.
As it stands, Pfizer is officially preferred for under-60s, and AstraZeneca for over-60s.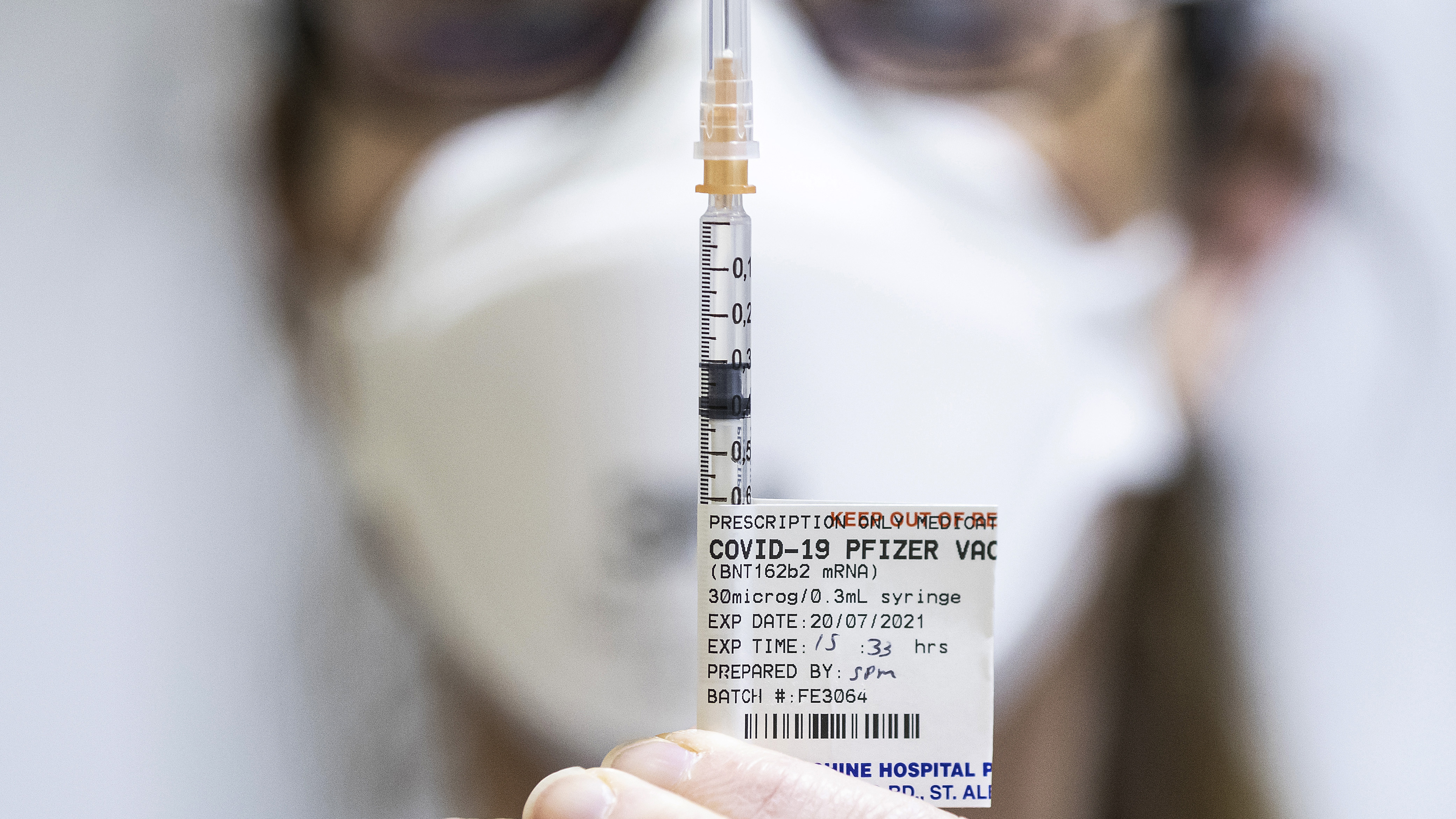 That's because of the very rare chance of developing a blood clot due to risks associated with the AstraZeneca for those aged under 60.
The chance of dying from such a clot is around one in a million.
The risk of dying if you caught the virus is much higher.
However, anybody under 60 now can also opt for AstraZeneca, with people in Sydney especially being encouraged to have it.
Under-40s, especially, are being told to come forward to have that jab.
Victoria is also offering AstraZeneca jabs to people aged under 40 from today at nine state-run clinics.
"You are eligible for the AstraZeneca vaccine if you are aged 60 years or older," the Federal Government Health website says.
"If you are aged 18-59 years of age, you can choose to receive the AstraZeneca vaccine following an appropriate assessment of suitability by a qualified health professional, and if you provide verbal or written consent."
How to make a vaccine booking
It's a little confusing figuring out how to get your jab – but you must book yourself, nobody will contact you.
The best thing to do is to use the government's official Eligibility Checker, here.
READ MORE: Bill Shorten backs AstraZeneca jab as 'quickest path out of lockdown'
It works out if you're eligible and has a searchable list of where to go.
The vaccines, which have been shown to be highly effective against coronavirus, are free for all, regardless of immigration or Medicare status, and come in two doses.
Pfizer doses are usually given three weeks apart.
However, Victoria has announced it will stretch that to six weeks so more people can have a dose.
The vaccine is still highly effective with one dose.
AstraZeneca doses are spread 12 weeks apart.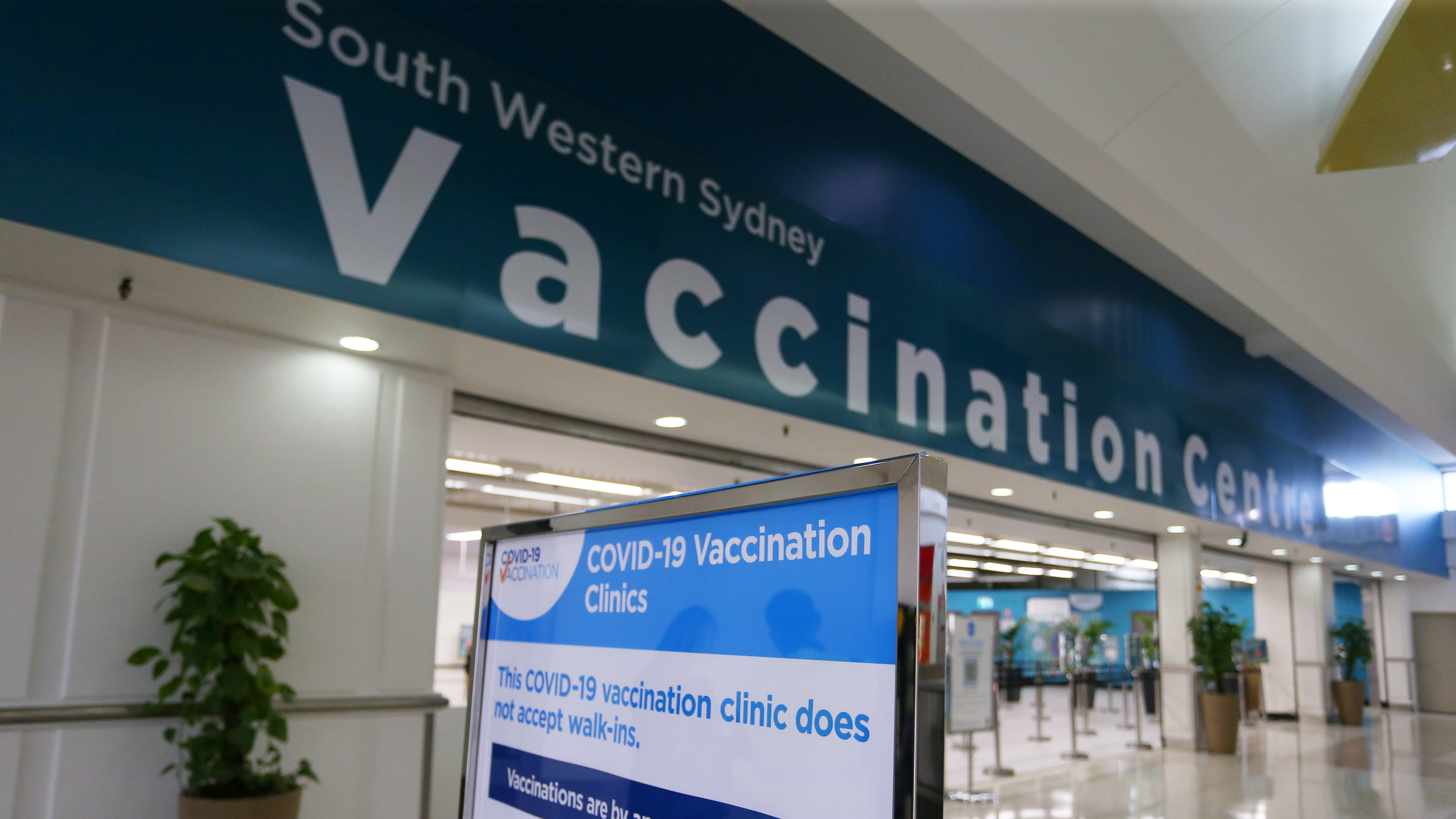 But people in Sydney are being told to bring their second dose forward to between four and eight weeks to get protection faster.
Specific information has also been issued for women who are pregnant, with the Pfizer vaccine recommended and now open for booking.
Meanwhile, from August 9, children aged from 12-15 with either specific medical conditions, who identify as Aboriginal and Torres Strait Islander or live in a remote community will be able to receive a Pfizer COVID-19 vaccine.
The vaccine is approved for all children of that age, but the rollout has not yet begun.
If you need help, the National Coronavirus and COVID-19 Vaccination Helpline is on 1800 020 080.
State-by-state vaccine rollout rules
NSW
Amid the growing coronavirus outbreak, NSW Health is pushing people in Sydney to get people vaccinated ASAP.
Again, the eligibility checker is the best place to start.
To make it even easier, walk-in appointments are now available in NSW for under-40s to get AstraZeneca at a mass vaccination hub.
A full list is here.
https://twitter.com/NSWHealth/status/1421017758079365121?ref_src=twsrc%5Etfw
People aged 40-59 can also now book for a Pfizer vaccination, online.
However, if they cannot get an appointment, NSW Health said they should contact their GP and book for AstraZeneca or go to a walk in hub- many GP's are giving AstraZeneca to all over 18.
Many pharmacies are also now giving AstraZeneca to all over 18s in NSW too, and people can contact them directly to book – or even walk in at some.
A list or rural pharmacies giving jabs is here.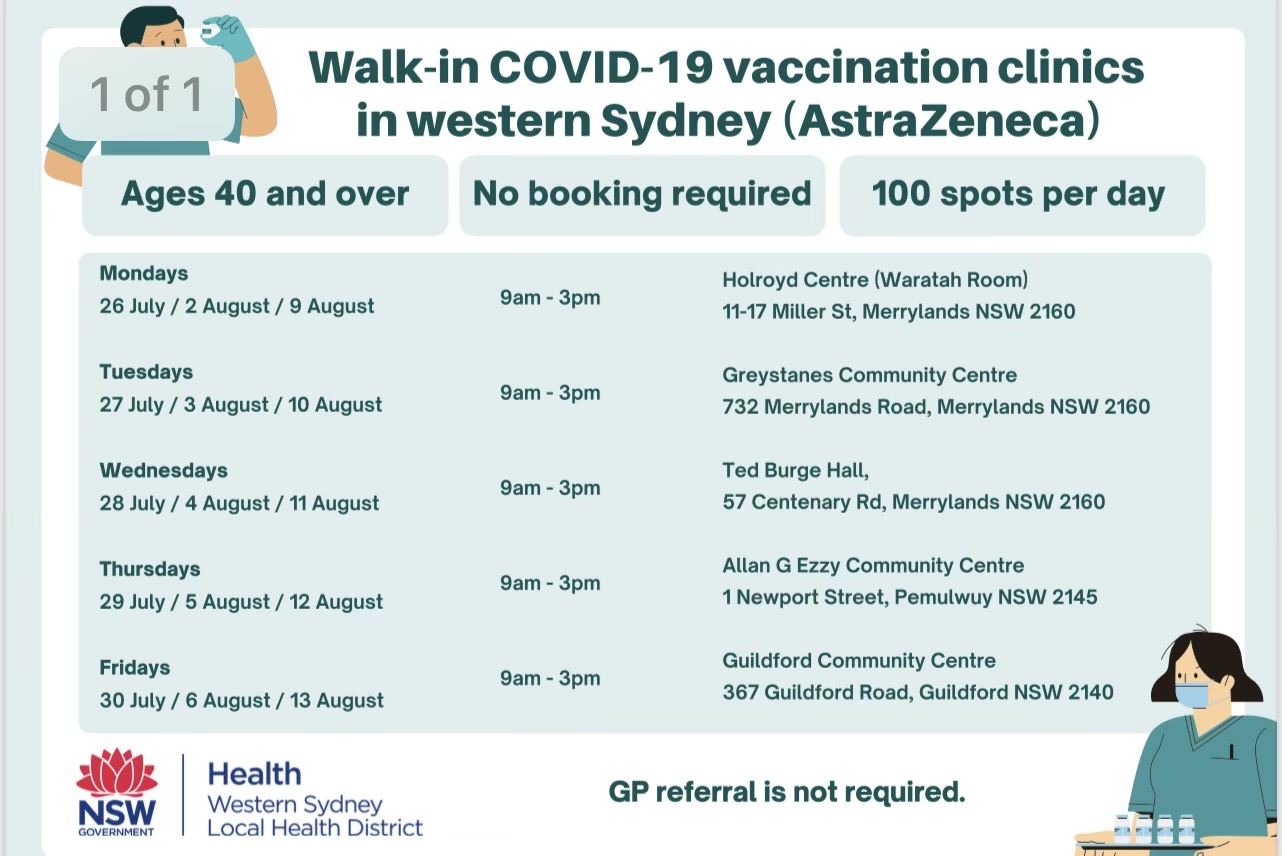 Health and other frontline workers, as well as over 50s, have all been given the chance to have the vaccination.
If they have not yet had it, they should book immediately using the eligibility checker or by contacting their GP.
READ MORE: 'More people probably die of peanuts': GP tells young people to get AstraZeneca vaccine
https://twitter.com/NSWHealth/status/1420913632297197571?ref_src=twsrc%5Etfw
Sydney is also about to start offering jabs to year 12 students.
NSW premier, Gladys Berejiklian said from August 9, Qudos Bank Arena at Olympic Park would open as a vaccination hub for Year 12 students from the eight current LGAs of concern.
After that, it will remain open as a mass hub for all.
Some supermarket workers are also being given priority in Sydney.
There is a 24-hour helpline on 1800 020 080.
Victoria
From today, people aged 18 to 39 can walk-in or make a booking to get the AstraZeneca jab at nine of Victoria's state-run vaccine clinics.
People aged under 40 must undertake an informed consent process with a GP on the risks of the vaccine, including thrombosis thrombocytopenia (TTS), before getting the jab.
Victoria's official vaccination rollout is currently offering vaccines to people aged 40 and over.
Like the rest of the nation, people aged 59 and over as well as the vulnerable and frontline workers, can also still book if they have not been jabbed yet.
Victoria has its own vaccination booking system here, and phone number- 1800 675 398.
Or you can use the national eligibility checker to access a booking.
Appointments are being reserved for Pfizer vaccine at vaccination centres.
Children aged 12-15 with underlying health conditions are also allowed to receive the Pfizer vaccine at state-run clinics from today.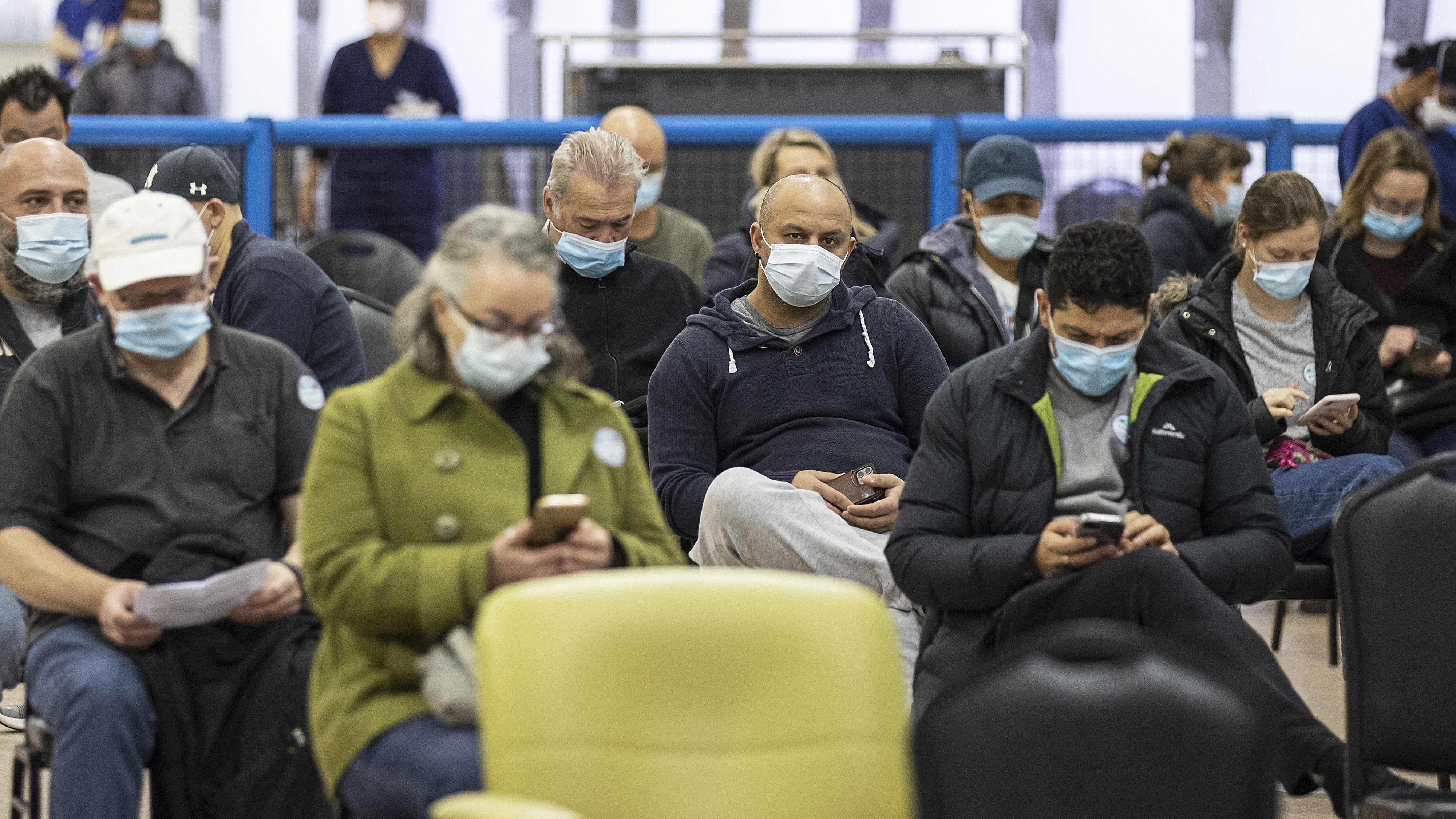 GPs are also giving AstraZeneca, so contact one near you.
Taxi drivers and Uber drivers have also been added to the list of frontline workers in the state who can get a jab at any age.
READ MORE: COVID outbreaks have 'significantly reduced' vaccine hesitancy
Queensland
Queensland is asking people to register online to get a coronavirus vaccination here.
They will then be contacted by email to book.
The helpline number is 134 COVID (134 268)
Or you can use the national eligibility checker.
Everybody aged 40 and over, as well as those in the earlier rollout, can now get the jab, with 40-59 years being given Pfizer.
People aged under 40 in Queensland can opt to have AstraZeneca by booking using the eligibility checker.
Plus, more rural and remote Queenslanders are rolling up their sleeves as local pharmacies join the rollout, with appointments also bookable online for over 50s.
If you live on the Gold Coast, there's a dedicated website you can use to book.
https://www.facebook.com/plugins/post.php?href=https%3A%2F%2Fwww.facebook.com%2FQLDHealth%2Fposts%2F161575152733201&show_text=true&width=500
ACT
ACT Government COVID-19 vaccination clinics are now open to people over 30.
Bookings have surged after the announcement.
That's in addition to all phase 1A and 1B groups – that includes frontline workers and over-50s – as well as everybody over the age of 40.
All Aboriginal and Torres Strait Islander people aged 16 years and over can also get jabbed.
Book an appointment here or call 02 5124 7700.
Anybody under 40 can opt to have AstraZeneca by contacting a GP or using the eligibility checker to make an appointment.
Canberrans aged between 30-39 years can register for an upcoming appointment at an ACT Government clinic by signing up to MyDHR or calling 02 5124 7700.
https://twitter.com/ACTHealth/status/1418073718790647808?ref_src=twsrc%5Etfw
Northern Territory
Anybody aged over 16 in the NT can get book their vaccination.
People 60 years of age and over will receive the AstraZeneca vaccine.
People aged 16 to 59 years will get the Pfizer vaccine – but can opt to have AstraZeneca if it means they can get an appointment sooner.
The eligibility checker takes you to a link to book.
Or you can book online here for one of the vaccination centres, which include Royal Darwin Hospital Auditorium COVID-19 Vaccination Clinic and the Alice Springs Hospital COVID-19 Hub.
https://www.facebook.com/plugins/post.php?href=https%3A%2F%2Fwww.facebook.com%2FTerritoryChief%2Fposts%2F345120620313448&show_text=true&width=500
Or you can contact a GP or pharmacy – they're listed here.
Aboriginal people aged 16 years and over can get the vaccine by contacting their local Aboriginal Health Clinic by phone or by walking in.
NT Health said it is working to provide the COVID-19 vaccine to remote communities across the Northern Territory in partnership with Aboriginal Health Organisations.
Contact those clinics here.
South Australia
South Australia is vaccinating people as young as 16 in regional areas, with the rest of the state open for vaccinations for people aged 40 and over.
People aged under 40 can opt for AstraZeneca, and you can book via the eligibility checker here.
https://twitter.com/SAHealth/status/1420893231957516289?ref_src=twsrc%5Etfw
Check the details and book here.
See the list of clinics here.
Tasmania
Tasmania has added people aged over 30 to its rollout for Pfizer, which is being given for people aged up to 59.
That's in addition to people in the earlier phases such as frontline workers and all those over 40.
All under-40s are also able to ask for AstraZeneca at a GP, if they don't want to wait.
Use the eligibility checker to find one.
https://www.facebook.com/plugins/post.php?href=https%3A%2F%2Fwww.facebook.com%2FHealthTas%2Fposts%2F156737916546333&show_text=true&width=500
Tasmania Health also says NDIS participants and their carers over 16 are also eligible.
Multiple community clinics are giving vaccinations, alongside hospitals.
Book online here or call 1800 671 738.
Western Australia
WA has its own "roll up for WA" vaccination campaign.
It's even asking people to share jab selfies with #Rollup4WA.
https://www.facebook.com/plugins/post.php?href=https%3A%2F%2Fwww.facebook.com%2Fwagovnews%2Fposts%2F184881530347549&show_text=true&width=500
People aged over 30s are now eligible, in addition to older people and those previously invited.
However, the state warns online there is a waiting list for bookings for Pfizer for that age group.
People aged 40 and over can register here to get a booking.
Like in other states, people under 40 can opt to have AstraZeneca and get jabbed sooner, by booking here.
GPs, GP respiratory clinics and Aboriginal Medical Services throughout regional and metropolitan areas are also giving out jabs, WA Health says online.