There will be a major increase in the US military presence in Australia, Defence Minister Peter Dutton has confirmed.
Mr Dutton told Today the move was designed to make Australia safer and provide stability in the Indo Pacific region.
"It is all about keeping Australia safe, and our Indo-Pacific is a very uncertain place. No doubt about that," Mr Dutton said.
READ MORE: China and France react angrily to Australia's AUKUS nuclear submarine deal with the US and UK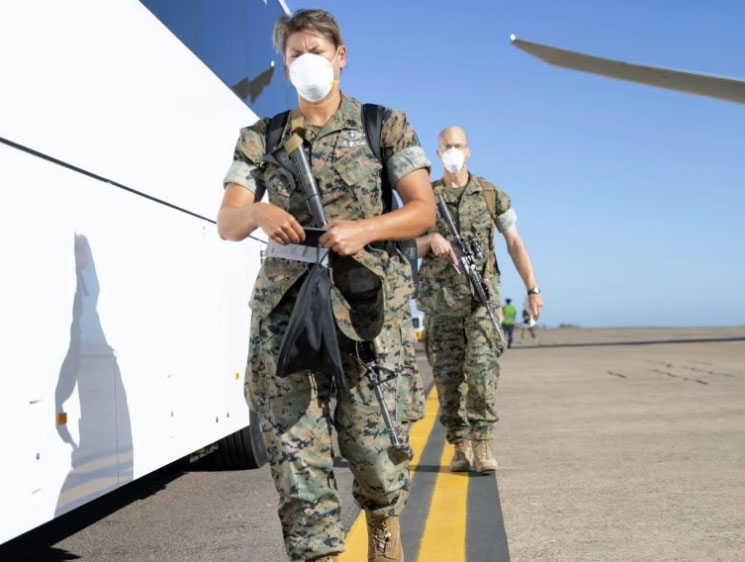 Thousands of US land forces already rotate through the Northern Territory for training but Mr Dutton flagged an increase in US air and naval assets here.
"There is more that we can do, in the maritime space, in the air space, and there is also a big opportunity there for Australian industry … the sustainment of all of that, you know, personnel, and the equipment that they bring with them."
Mr Dutton also says US military forces could be based in southern Australian states.
"The United States is talking about bringing through all sorts of planes, Bombers and different surveillance planes … sustaining them through Richmond or Amberley (RAAF bases), different airports … there is a big opportunity."
Earlier today, Mr Dutton and Foreign Minister Marise Payne held talks with their American counterparts in Washington.
READ MORE: 'No doubt we will be hearing from China and no doubt China will be outraged'
They were held just hours after Australia joined a new defence pact with the US and the UK, an agreement that will see Australia acquire nuclear-powered submarines.
Mr Dutton said the new submarine fleet will give Australia superiority in the Indo Pacific.
"The beauty about this sub is that for about 35 years, for the life of it, you don't have to change the reactor. Many others need to be refuelled," Mr Dutton said.
"But it will be some years off, and it is a huge investment, but it will give us superiority in the region, and that's what we need to maintain."